Social Science Students on Exchange
Sarah Callahan
My name is Sarah Callahan and I am a fourth year MOS student away on exchange in Maastricht, Netherlands. I lived at home in London for my first three years of study. Moving to Maastricht has been one of the best decisions I have ever made! Anyone who has a passion for travel, would like to experience a different culture, be challenged academically, and enjoy meeting people from around the world, would love living in this beautiful city and attend the School of Business and Economics (SBE).

Maastricht University's exchange program is unique because they are committed to connecting exchange students with each other and with the community. There is a committee responsible for organizing regular events throughout the city, an International Relations office that communicates academic and legal information, a housing office that ensures all of your residential affairs are looked after, and an organization responsible for organizing exciting trips throughout the year. Maastricht University has a strong system in place that makes it easy to meet other exchange students and engage in fun activities outside of the classroom experience. As a former student athlete, I was pleased to find a fantastic gym close by and have encouraged new friends to join as well!

The school teaches in English and uses a unique educational system called PBL (Problem Based Learning). PBL is a non-lecture format that is solely based on tutorials. These tutorials differ from Western's because we participate in facilitations (similar to presentations but more discussion-based) and analyze case studies in groups of approximately 15 people. The focus is on independent learning within a group format. We challenge ourselves and each other to ensure we cover the material thoroughly so we are prepared for final exams. Ivey cases are frequently used which demonstrates the level of learning at Maastricht is of the highest quality. Courses are taken two at time for a period of 6 terms. Optional skills courses are also available providing specialized training in presentations, computer skills, interview skills and cultural diversity in a global society.

I have enjoyed my experience immensely. Maastricht is centrally located in Europe, therefore travelling is inexpensive and many exciting cities are in close proximity. I have travelled to Amsterdam, Cologne, Dublin, and Paris. In the very near future I will be visiting Bruges, Brussels and Prague.  During the Christmas holidays I will be travelling throughout Germany. Other countries I hope to explore are Italy, France, Spain and Portugal before my time here comes to an end. I believe an exchange is what you make it and you should take advantage of all the opportunities available to you while you are away. Having studied European history and Politics at Western, I have been excited to see historical landmarks, medieval villages and images of war that have shaped our lives today. If you can, go for a year and not just a semester. Many of my new friends who are here for just one term, already regret not having more time. I am incredibly grateful to have listened to my peers at Western who had returned from their respective exchanges and advised me study for the full year. It can be scary to move away on your own, but I promise it is well worth it.

I started a blog to document my experiences and invite fellow students considering an exchange to read it—canuckinwoodenshoes.wordpress.com.

Finally, I would like to thank Western for allowing me to have this amazing opportunity that has already changed my life in so many ways. I feel more mature, independent, resilient and aware of different cultures around the world. I am being challenged academically and am learning the value of going global.
---
Greetings from The National University of Singapore...
October 2011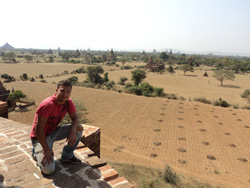 My name is Ivailo Ivanov and I have had the pleasure of attending the National University of Singapore for the year 2010/2011. The exchange program is truly a life changing experience and although you may find it cliche since almost everyone who has had the experience says those exact words, I can almost guarantee that it will be no different for you. This is an opportunity for you to travel, to see the world from a different perspective, to meet people who you may stay in contact with for the rest of your life.
I had the opportunity to travel all over Asia when I was in Singapore and I was completely blown away, so much that I have decided to stay and begin my career here. I strongly recommend that you step out of your comfort zone and use this opportunity to broaden your perspective of the world.
Ivailo Ivanov
2011 Bachelor in Management and Organizational Studies
Specialization in Finance and Administration
Diploma in Accounting Candidate
---
Greetings from The University of Nice...
January 2010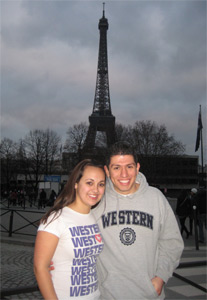 We are currently studying at the University of Nice in Southeastern France for the year. Missing Canada and Western but we are enjoying and loving every minute of France! There are so many new and exciting cultural opportunities here in Nice as well France/Europe in general so we are taking advantage of it while we can! À plus tard!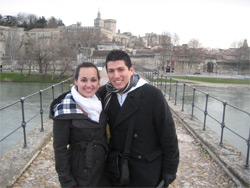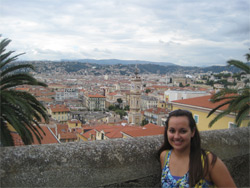 ---
Greetings from the Swiss Alps and Paris...
December 2009
Nicola Goldberg in Erasmus, on travels to the Swiss Alps and Paris.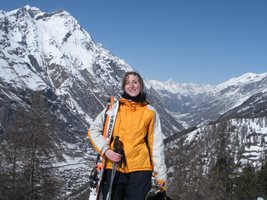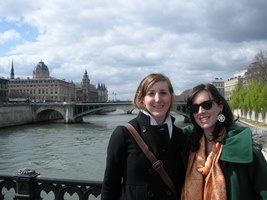 ---
Greetings from Australia...
July, 2009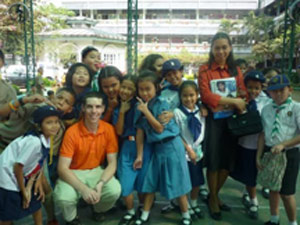 Here are a few that I have taken while on my travels.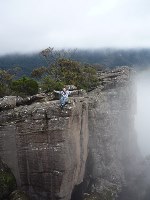 I was volunteering in Thailand as an English teacher. So, as you can imagine, I have thousands of pictures and a boxful of gifts and things the kids and teachers gave me. It was truly an unforgettable experience!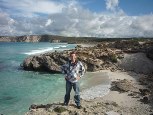 I've also included some of my pictures from Australia. I have thousands of pictures from South-East Asia and the South Pacific---so here are just a few...
Cheers!
Ben Bigio
---
Greetings from Stockholm University...
September 2009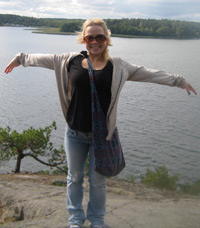 I'm an outgoing exchange student from Western. I'm studying at Stockholm University for one year. Here's a few of pictures from beautiful Stockholm, Sweden.
Madeline Hardy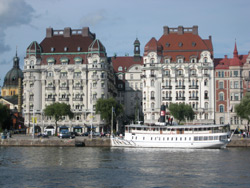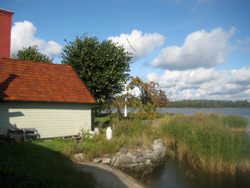 ---
Greetings from the Netherlands...
May, 2009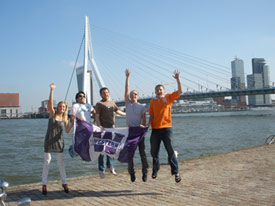 I have really enjoyed my exchange and it has given me the opportunity to see more clearly the things that I love at Western but also those which could be done better. Being away has made me value brief random trips home to my family's embrace, my girlfriend's presence, and a night out with close friends.
While the Netherlands is still part of the Western world, this nation's culture, politics, history, and society are all very different. Even with a Dutch family, I was taken back by an entirely different environment and rational. The amazing thing is that there is nothing enormous that sticks out to explain this difference but rather it is the combination of hundreds of factors slightly altered which add up.
As far as classes go, I wish Erasmus was as organized as Western. Ever week, class times, locations, and rubrics change with no logical explanation. The campus is also much smaller and does not have the space or beauty of the one I left back home.
Regarding traveling, I have focused my travel to the Netherlands since I want to say that I know where I studied before discovering cities and nations hundreds of kilometers away. As the summer approaches, I intend to make the epic month Euro trip with my sister who is flying in after finishing her masters degree at Western.
In all, it has been a great time, amazing learning experience, and there are many things still in the works - study trips to Geneva, Brussels, and Lux.
Matthijs Jacob Jochem Van Gaalen
---
Greetings from Copenhagen, Prague, Moscow, Berlin, Stockholm and Dublin...
April 2009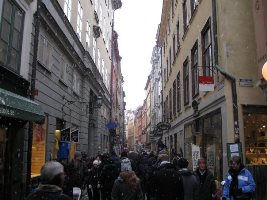 Studies are still going well! Cheers!
Jackson Phillips



---
Greetings from Hong Kong...
December 2006

Here are some pictures from Hong Kong. The one on the left is outside of a Taoist temple; even though Hong Kong is a very fast-paced society, there are quiet and peaceful places.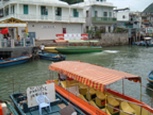 I love having the sea always so close! I spent lots of time in Sai Kung, a beach in Hong Kong. The bottom right picture was taken in Tai O, on Lamma Island; in contrast to the city, it is a small fishing village and is still very untouched by "modern" life.
Alanna Mihalj
---
Greetings from Hong Kong...
November 2006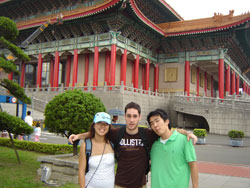 Ni Hao,
Here are some pictures from Hong Kong and Southeast Asia. I'm currently studying at the University of Hong Kong. Due to its proximity central location in Asia and its reputation as a world city, I've been able to make friends from around the world and travel all over Asia.
Cheers,
Jordan Udaskin
ACS III
---
Greetings from St. Andrews...
October 2006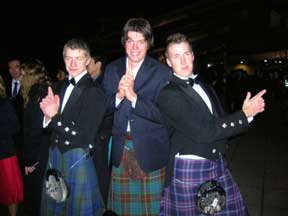 My experience studying abroad at the University of St. Andrews, Scotland, was incredibly enriching, both academically and personally. Studying along side international students brought unique perspectives to course issues that I would not have otherwise been exposed to. As an international relations student, I was also fortunate enough to take courses from professors who specialized in such unique disciplines as Terrorism.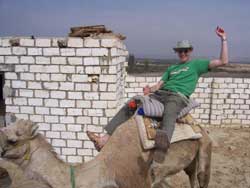 Outside of school, the exchange allowed me to immerse myself in another culture and to travel extensively to places such as Egypt and Greece. It was certainly a memorable experience.
Nicholas Cooper
---
Greetings from the UK...
October 2006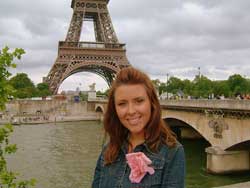 I'm currently studying at the University of East Anglia in Norwich, UK. Given the close proximity to many historic European cities,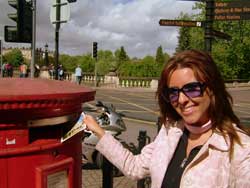 I've been able to tour Europe. Here are photos from a recent trip to Paris, and one from Bath.
Cheerio!!
Veronica Granic, BMOS '06, BA (candidate) '07
---
Greetings from The University of St. Andrews...
October 2006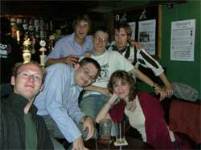 I have only been in Scotland for one month and I already know it was one of the best decisions I have ever made in my life. Through my short time here, I have come to understand the importance of travel, experiencing and understanding other cultures, and challenging myself by exploring a broader education outside of my subject specialty. One can argue that I'm still in the honeymoon phase of my exchange, but I have already developed an assured sense of independence and a quiet but strong self- confidence; qualities that will last a lifetime. I love my courses and have such a great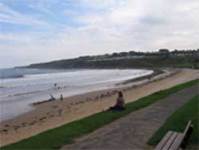 posse of friends here. To all UWO students, I implore you to take the risk and go on exchange. Whilst in university, seize this opportunity to become an intellectual and cultural romantic in Canada and abroad. Cheers!
Tiffany Vogel,
Fourth Year B.A Geography and Honours B.Sc Chemistry and Biochemistry
---
Greetings from Royal Holloway...
October 2006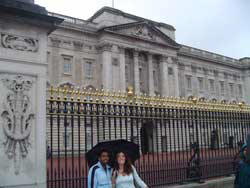 Here are a few pictures from Royal Holloway and London, England!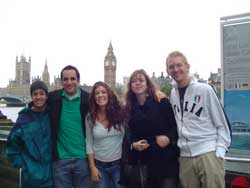 I hope all is well and good back home at Western!
Jaime A. Silk
---
Greetings from California...
October 2006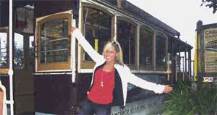 Elyse Campbell on exchange at California State University studying Human Resources.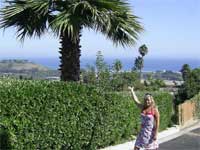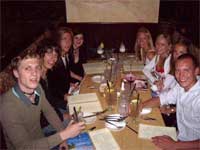 ---
Greetings from Rotterdam...
July 2006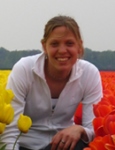 Hoi!!! My name is Michelle, and I am entering into my fourth year of Scholar's Electives (BSc Psych). This past winter I had the wonderful opportunity to study abroad in Rotterdam, the Netherlands. Studying abroad for a term was one of the best decisions I have made during my university career. I was able to meet and make friends with students from many different countries and backgrounds. This experience definitely enriched my studies at Western and helped me value the differences and similarities that we share. I definitely recommend an exchange program to anyone considering one, as it is a great way to make friends from around the globe, experience a different school system, and find out more about yourself. It makes you cherish what you have and urges you to grow as an individual. I am still uncertain as to what I will do after I graduate, but I feel that after studying abroad the world is now open to me! Daag!
Michelle Laura Dekens
---
Greetings from Japan...
February 2006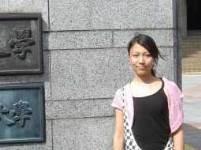 I am an exchange student in Japan and doing very well now.
YiSi Zhen
---